Archive for the ' News ' Category
Neal Smith is joining Alice Cooper, Dennis Dunaway, and Michael Bruce for a tour in the UK!
http://teamrock.com/news/2017-06-14/alice-cooper-reunites-original-band-for-uk-tour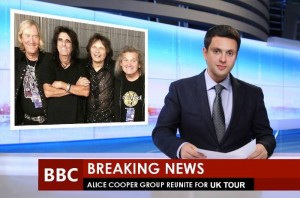 Neal is joining with the original band members of Alice Cooper Band at the Tennessee Performing Arts Center in Nashville on May 14, 2017!
Press Release from TPAC:
---
For Immediate Release
April 17, 2017
Alice Cooper to perform with original band members Dennis Dunaway, Neal Smith and Michael Bruce at TPAC in Nashville on May 14
NASHVILLE, Tenn. – Original Alice Cooper band members Dennis Dunaway, drummer Neal Smith and guitarist Michael Bruce will perform with the legendary shock-rock performer at the Tennessee Performing Arts Center's
Andrew Jackson Hall
on May 14. Nashville is the only date on the 2017
Spend the Night with Alice Cooper
USA tour where fans can experience a special mini-set featuring the four original members of the group, who were inducted into the Rock and Roll Hall of Fame in 2011.
Tickets are on sale now at
TPAC.org
, by phone at 615-782-4040, and at the TPAC Box Office, 505 Deaderick St., in downtown Nashville. VIP packages are available through the TPAC Box Office for a limited time.
Bassist Dennis Dunaway, drummer Neal Smith, and guitarist Michael Bruce have contributed to and appear on Cooper's forthcoming new album due this summer, produced again by longtime collaborator Bob Ezrin.
"We've recorded much of my last album and my new one in Nashville and it's such a great music town," said Cooper. "With so many musician, songwriter and producer friends here, as well as great rock fans who come to our concerts, it's special to be performing with Neal, Michael and Dennis in Nashville for them."
Spend the Night with Alice Cooper
May 14, 2017
8 p.m.
TPAC's Andrew Jackson Hall
505 Deaderick St.
615-782-4040
Performance schedule, prices, and cast are subject to change without notice. Institutional sponsors for TPAC include Nissan North America and Coca-Cola. TPAC is a nonprofit arts organization funded in part by support from the Tennessee Arts Commission and the Metropolitan Nashville Arts Commission. TPAC reminds ticket buyers that the only official place to buy tickets online is TPAC.org.
# # #
Over three decades, the nonprofit Tennessee Performing Arts Center has welcomed more than 12 million audience members and served more than 1.8 million students, educators, and adults with performances at TPAC, teacher resources, classroom residencies, and enrichment programs. Founded in 1980, TPAC serves several hundred thousand audience members each year with the HCA/TriStar Health Broadway at TPAC series, a variety of special engagements, and the productions of the three resident artistic companies – Nashville Ballet, Nashville Opera, and Nashville Repertory Theatre. For more information, visit
TPAC.org
.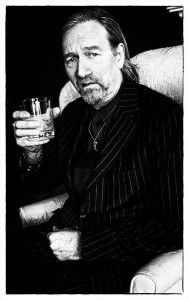 NEWS!!!! The world premiere of the movie "Desolation Angeles Rise Of The Boas" at the Bijou theatre in Bridgeport, CT. The showing is scheduled for Dec 28th, with a snow date of January 4th, 2017. Doors open at 6:30 PM and the showing stars at 7:30 PM. A $10.00 cash donation is requested, sorry no credit cards.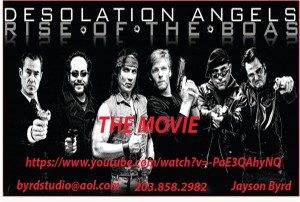 Spread the word, we want a full HOUSE!!!


Jayson Byrd, a photographer who has shot everyone from Paul Newman to Bob Dylan to Edith Stapleton and Morris Carnovsky, has completed a full-length feature film. Among the 40-plus actors in the film is Neal Smith, a drummer and founding member of the Rock 'n' Roll Hall of Fame band "Alice Cooper."
Desolation Angels/Rise of the BOAS is a movie based on the morality issues raised in classical Greek mythology. The question continues to haunt man: Are we are able to change our fate or is life predestined by the gods. The film was shot at more than 30 locations in Fairfield County Connecticut and environs.
In Desolation Angels/Rise of the BOAS a group of mercenaries are hired by a covert government agency to disrupt the relationship between the Russian mob and the Mexican drug cartels.
The movie is old style B&W and is two hours in length.
---
Available on CD-Baby –
"Desolation Angels" (Neal Smith Song)
"Desolation Angels" is the theme song written and arranged by Rock and Roll Hall of Fame Drummer and founding member of the original Alice Cooper group Neal Smith, for the soon to be released movie, Desolation Angels/Rise of the BOAS. Neal also stars as ruthless Russian mob boss, Yury Streinkov
Join Alice and Sheryl as they raise the dead at Alice Cooper's Rock & Roll Vampire Bash on Sunday, April 24th from 4:30-10:00 pm. The nocturnal fun includes a Cocktail Reception where you can chill with us in the Pro Em VIP Lounge, Silent Auction, Dinner, Live Auction and Live Entertainment on the PCS Stage with Alice Cooper and friends, including Alex Lifeson (Rush), Danny Seraphine (Chicago), Tommy Thayer (KISS), Frank Sidoris (Slash), and Neal Smith (Alice Cooper), and the comic genius of John O'Hurley and Jeff Allen. 
Las Sendas Golf Club
7555 E Eagle Crest Dr, Mesa, AZ 85207