Archive for the ' Performance ' Category
Neal Smith is joining Alice Cooper, Dennis Dunaway, and Michael Bruce for a tour in the UK!
http://teamrock.com/news/2017-06-14/alice-cooper-reunites-original-band-for-uk-tour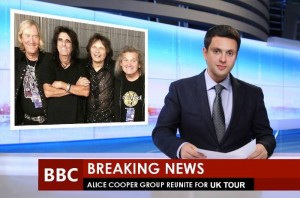 May 14, 2017 in Nashville:
---
A Review of the performance from a fan!
Thanx a billion for an amazing ALICE COOPER experience over two nights in Nashville.
It was incredible to see and hear you guys do the full production gig at "The Performing Arts Center." I hope y'all felt the massive energy charge from the crowd when the curtain fell and everybody realized "fuck it's them…the real "Alice Cooper"…spine tingling stuff. Although I'd seen the two Christmas Pudding shows to see and hear y'all up there in your natural habitat was mind blowing. My wife Linda cried with joy and excitement when you began that iconic intro to "Billion Dollar Babies," the DW kit sounded huge…funny though…to me, compared to your famous Slingerland and Premier kits it looks tiny. Then the following night to see and hear y'all in such an intimate setting was beyond the wildest dreams of the 12 year old Mac who bought every magazine and covered my walls with posters…it felt like being a fly on the wall in a rehearsal room…or having a private party like the scene in "Diary Of A Mad House Wife" and the band is ALICE COOPER!!! You guys sounded even tighter, rawer and crisper than the night before and looked like you were all having a great time. I ran into Michael at the airport the following day. I couldn't believe he asked me how I thought you guys compared to Alice's current band. As I told him, there is no comparison… Alice's guys and gals are great players, technically precise, but clinical and rehearsed to within and inch of their lives…they could be anybody, with Alice singing out front calling the shots…you guys SOUND AND FEEL LIKE ALICE COOPER !!! It feels dangerous and spontaneous and raw…and it's great to see Alice look a little uncomfortable as he wonders where is Dennis gonna turn up next and what is Michael gonna play in the solo and how is Neal gonna call the end to this song. I Loved it to death !!!
Thanx…and ..much love…Mac (from Australia)
May 14, 2017 in Nashville:
May 14, 2017 in Nashville:
May 14, 2017 in Nashville: