Archive for the ' Video ' Category
Welcome 2 My Nightmare, released September 13, 2011, by Universal Music Enterprises. Recorded with longtime collaborator Bob Ezrin, who produced the original multi-platinum Welcome To My Nightmare album in 1975, the album picks up right where they left off, with Alice trapped in his own warped mind.
There is an array of collaborators on the new album, including original Alice Cooper members Dennis Dunaway, Michael Bruce and Neal Smith reunited on 3 tracks. Neal Smith collaborated with Alice on the already established live favorite and first single "I'll Bite Your Face Off," Alice says, musicians do not play together like Dennis Dunaway, Michael Bruce and Neal Smith anymore
Co-writers on various songs include the aforementioned Bob Ezrin, Ke$ha, Dennis Dunaway, Michael Bruce and Neal Smith, plus Buckcherry's Keith Nelson, Desmond Child (who famously co-wrote and produced "Poison" with Alice), longtime collaborator Dick Wagner, current touring band member Chuck Garric, and film composer Jeremy Rubolino.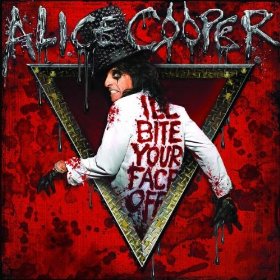 Blabbermouth.net has a great interview of the Alice Cooper Band during the Rock and Roll Hall of Fame Induction ceremony.
You can view the interview here, and it includes video!